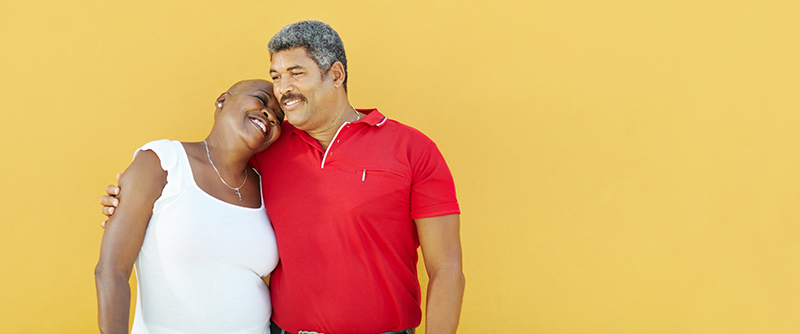 Simplefill connects patients taking Zytiga and other medications with patient assistance programs that help save on prescription drug costs. Learn more about how Simplefill can help, and apply today.
What is Zytiga?
Zytiga (abiraterone) is used to treat prostate cancer in men when surgery is not an option or other medications cannot be used.  Zytiga is often combined with steroidal medications such as prednisone to treat prostate cancers that have spread beyond the prostate.
Studies have shown that early detection and intervention with Zytiga may lower the risk of death in men with metastatic or advanced prostate cancer by as much as 40%. Adding Zytiga and prednisone to androgen deprivation therapy (ADT) has been proven to lower the risk of death by 38%.
Zytiga, which is taken orally in pill form, is toxic to pregnant women and may harm unborn children. Women who are pregnant should not handle the pills. It is important to use condoms during intercourse with pregnant female partners to avoid exposing an unborn fetus to Zytiga.
What does Simplefill Provide?
Simplefill helps patients taking Zytiga obtain financial assistance with the cost of their medication. The stress of dealing with serious conditions can be greatly increased by the anxiety of paying high prescription drug costs. Stress can have an adverse effect on the efficacy of treatment and be detrimental to patients' health.
Simplefill searches all available patient assistance and discount programs to find the ones that will help lower the cost of your Zytiga prescription.
How does Zytiga Work?
Androgen deprivation therapy, sometimes referred to as "chemical castration," reduces the level of testosterone and other androgens by as much as 95%, but not permanently. Eventually, prostate cancer can become "castrate-resistant," and another method is needed to suppress testosterone. That's when Zytiga enters the picture.
Zytiga works by interfering with the production of certain hormones that are precursors of testosterone, the main driver of prostate cancer. It is used with prednisone in cases of castrate-resistant prostate cancer and metastatic prostate cancer to reduce the level of circulating testosterone.
How to get Prescription Assistance
Simplefill can help take the worry out of affording your Zytiga prescription. To get started, apply online or call Simplefill at 1(877)386-0206. Within 24 hours, one of our professional advocates will contact you to conduct a brief, confidential interview that will enable Simplefill to match you with an appropriate patient assistance program. Simplefill will submit an application on your behalf, and once it is approved, we will get you enrolled in the program.
Consider Simplefill your partner moving forward. We'll make sure that your Zytiga prescription is renewed as needed, and we'll find you similar assistance paying for any new medications prescribed for you.
Apply Now
The sooner you enroll with Simplefill, the sooner you can stop worrying about how to pay for your Zytiga prescription. Enroll with Simplefill today and start saving.